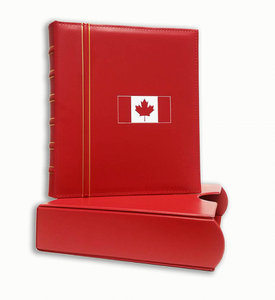 CLASSIC GRANDE SET 3-RING CANADA, RED Article number: 356283
Regular price $49.00 Sale
CLASSIC GRANDE SET 3-RING CANADA, RED
Article number: 356283
Celebrate 150 years of Canada with our Canadian themed GRANDE binder. Finally a binder in Canada red with a coloured embossing on cover and spine featuring the Canadian flag and golden "CANADA" letters.
Our GRANDE binders are one of the most used systems in Canada to fit any kind of collectables in a great selection of sheets ranging from NUMIS coin sheets, VARIO stamp sheets to GRANDE banknote sheets. Any standard 3-hole punch sheet will fit and give you the option to mix and archive entire collections. The 3 D-ring mechanism is 100% straight to insure every sheet lies perfectly flat on top of each other.

Including premium leatherette cover and matching slipcase

Overall size binder: 11 7/16 x 12 13/16" (290 x 325 mm).
Overall size slipcase: 11 ½ x 13 3/16" x 2 2/4" (293 x 335 x 70 mm).
Please contact us for the shipping price before buying.
Please be aware the shipping cost might be higher for this material please contact us before buying.
s.v.p. soyez aviser que le prix afficher pour le transport peut être plus dispendieux que le prix afficher sur ce site ou Ebay
Aussi disponible:

Article number:

324851