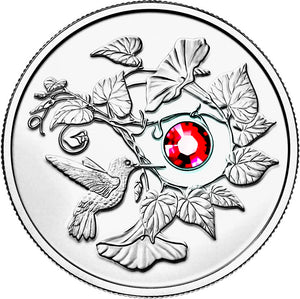 2013 $3 Three Dollars-Hummingbird and Morning Glory
Regular price $50.00 Sale
2013 
$3

Three

Dollars

-

Hummingbird and Morning Glory
Mintage sold: 7,392
Finish: proof
Composition: 99,99% silver,  Siam red Swarovsky crystal element
Silver Content: 8,06 g ,0,257 tr oz
Weight (g): 8
Thickness (mm) 2,0
Diameter: 27,0 mm
Edge: 

Reeded

Face value: $3
Ideal for gifting for nature lovers and bird aficionados!
The hummingbird and the morning glory are two perennially beautiful fixtures of the Canadian garden in summer. Here, they are joined in exquisite harmony around a sparkling red Swarovski crystal element.

Full colour sleeve with embossing and foil; ideal for gifting for nature lovers and bird aficionados. Order today!

Special features:
• Your coin is a beautiful addition to any collection featuring birds, flowers, natural images or coins featuring crystal elements.
• Your coin includes a unique artistic depiction of a 'morning glory' sprouting from seed to the various stages of development.
• This stunning light Siam red colored crystal makes it an ideal gift to someone you know who enjoys Swarovski elements.
• The elegant design is finely engraved and meticulously presented in a beautiful proof finish (frosted raised elements on mirror background).

Design:
Your coin features Canadian artist Yves Bérubé's image of a hummingbird and Morning Glory vine centered with a light Siam red Swarovski crystal element. Engraved in the finest detail, hummingbird and vine seem to come to life against the polished silver field. The hummingbird, eternally drawn to the sparkling treasure at the centre of the image, is captured forever in a moment that, in life, is exceptionally fleeting.

Order your coin today!
FOR MORE INFO VISIT MINT.CA
Customer bought those items with: