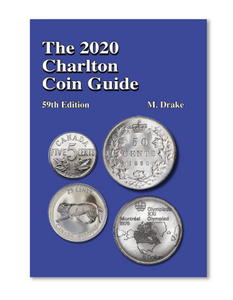 2020 CHARLTON COIN GUIDE, 59TH EDITION
2020 CHARLTON COIN GUIDE, 59TH EDITION
Article number:

361716
The Charlton Coin Guide returns for 2020 with more than 256 pag¬es of information to assist you in determining the value of your coins. The Guide, which is the oldest continuously published buy¬ing guide in Canada comprises: 
• Approximately 36 pages of buying price for coin used in circulation back to 1858; 
• Modern collectable coins sold by the Royal Canadian Mint with valuations; 
• Paper money, which we use every day. All paper money listed is ac¬companied by buying price back to 1866; 
• Colonial Tokens used in Canada before Confederation in 1858; 
• Buying price of United States coins you may have in a dresser drawer. 
With the balance of pages covering the value of gold coins, the bullion val¬ue of gold and silver coins, and a small section on Military medals and awards.
Editor : M. Drake 
Format: 6" x 9" 
Pages: 256 
Binding: Perfect
Important
other Charlton catalogue Available: