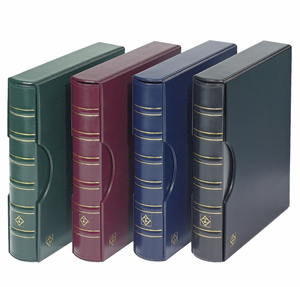 GRANDE CLASSIC BINDER SET 3 D-RING, INCL. SLIPCASE
Regular price $37.00 Sale
GRANDE CLASSIC CURRENCY ALBUM SET 3-RING
GRANDE  binders can hold sheets up to 9 ½ x 12"(240 x 300mm) in size. Apart from GRANDE sheets, sheets from the VARIO system as well as any standard A4-sized pockets with 3-hole punching may be used. GRANDE binders are therefore ideal for storing currency, NUMIS sheets, stamp booklets as well as any A4-sized documents. (8 ¼ x 11 ¾ " / 210 x 297 mm)
Bookbinder's quality leatherette cover, sturdy 3-D-ring mechanism. Holds up to 60 sheets depending on thick ness of contents. Available in burgundy, forest green, royal blue, and black. 
Binder Size :   11¾ x 12 ½   x 2 3/8" (290 x 325 x 60 mm) 
Slipcase Size : 11½x 13 ¼   x 2 ¾"  (293 x 335 x 70 mm)
PROUD MEMBER OF THE C.A.N.D. ASSOCIATION
The Canadian Association of Numismatic Dealers is a non-profit association of professional numismatists organized in 1975 under letters patent as Canada 70,067 Inc. CAND's function is to ensure a high degree of professionalism by its members. Each CAND member has signed a strict code of ethics, which is enforceable by our by-laws. CAND members are engaged in the retail numismatic trade, primarily in Canadian numismatics, and may conduct business from anywhere in the world.
CAND members include coin dealers, coin show operators, Publishers, supply manufacturers, bullion dealers, foreign exchange dealers, auctioneers, paper money dealers, and foreign coin and paper money dealers.
CAND features a mechanism for redress of grievances against members, and a performance fund for at least partial compensation to wronged collectors should the dealer be unable to fulfill his obligation.
CUSTOMERS BOUGHT THESE ITEMS TOGETHER WITH: